Guillem Ramos-Poquí

Painting-collages 2013-2014

Exhibited in Barcelona in July 2014

Click here to see the Exibition, the Private View, and related texts:

Exhibition at The Royal Artistic Circle of Barcelona 9th June-6th July 2014



Guillem Ramos-Poquí

'Polarity' 2013-2014

(click here to see text about this work)

38cm x 30cm (15" x 11 3/4") Painting-collage.
Mixed media on canvas board. (acrylic, encaustic, egg-tempera, silver leaf, pencil,
sand, melinex mirror paper, aluminium, fragments of leaf, newspaper,
b&w reproduction (Titian), card jigsaw pieces, pencil, pearl, mosaic pieces)


Guillem Ramos-Poquí

'Anthem' Painting-collage 2014
(click here to see text about this work)

33.7cm 26.4 cm (13 1/4" x 10 3/8") Mixed media on board
(Japanese paper mounted on board with a collage of melinex
mirror paper showing a b& w reproduction (a painting by A. Wiertz),
egg-tempera on gesso board, folded linen canvas,
drawing pins, compass, pencil, and ink.)



Guillem Ramos-Poquí
'The Open Circle'

Painting-collage 2013. 31cm x 21'5cm (12 1/4" x 8 1/2")
Mixed media on linen canvas on board:
Encaustic, acrylic, oil, wax crayons and permanent felt pen.
Bottle tops, oak leaf, feather and dice.
Fragments of reproductions (from Piero's drawing, Durer's etching,
and a pinup), and fragments of typed text (on hermeneutics)
mounted on melinex mirror paper, and
fragments of text written in reverse on clear acetate.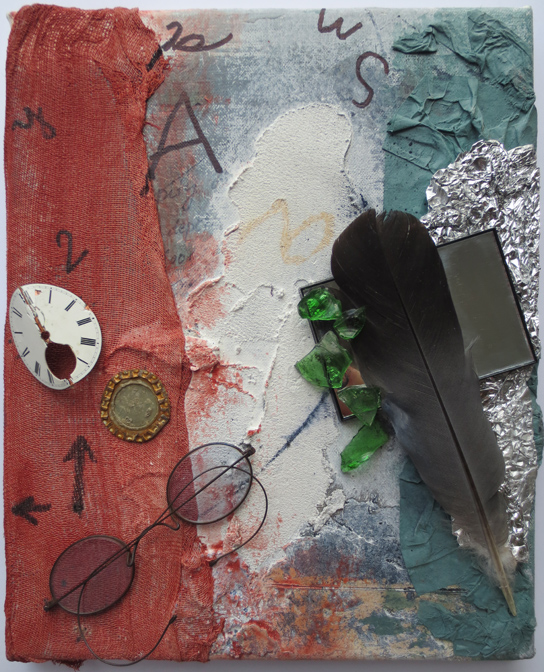 Guillem Ramos-Poquí

'De Profundis'

11" x 9" (28cm x 23cm) Mixed media on canvas 2013
(Egg tempera, acrylic, encaustic, silver leaf, ink, sand,
collage of butter muslin, Japanese paper, mirror,
watch dial, bottle top, spectacles)



Guillem Ramos-Poquí

'An Ephemeral Attempt to Analyse Time'

38cm x 30 cm (15" x 11 3/4") 2013. Painting-Collage, mixed media on canvas
Tempera, coloured and silver pencils and pens on canvas mounted on board.
Encaustic, acrylic, sand and wax crayons on silver leaf.
Dried yellow rose, ammonite and watch mechanism on broken embedded mirror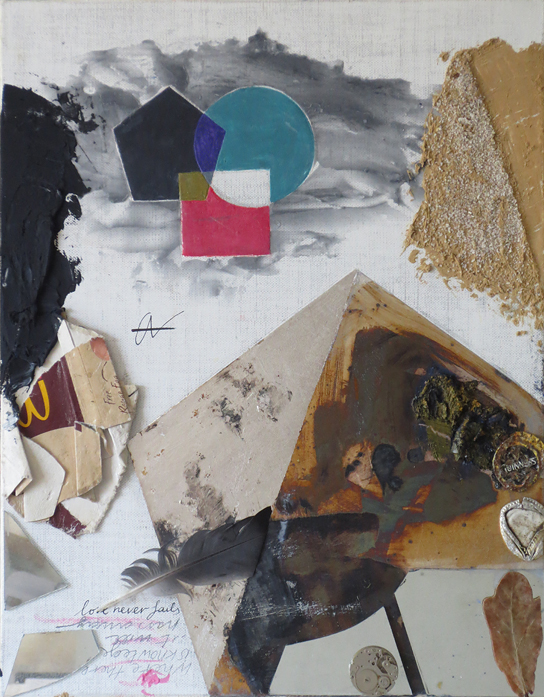 Guillem Ramos-Poquí

'Two Mirrors'. 2013

33.7cm x 26.5cm (13 1/4" x 10 3/8") Painting-collage
(Mixed media on canvas on canvas board)



Guillem Ramos--Poquí

'In Ictu Occulis' (In the Blink of an Eye)

2013. 38cm x 30cm (15" x 11 3/4")
Mixed media on canvas mounted on board
(Egg-tempera on gesso, encaustic, acrylic, silver leaf, sand, crayon,
pencils, ink, collage of butter muslin (scrim), Japanese paper,
glass pieces, stained glass, mirrors, wasp)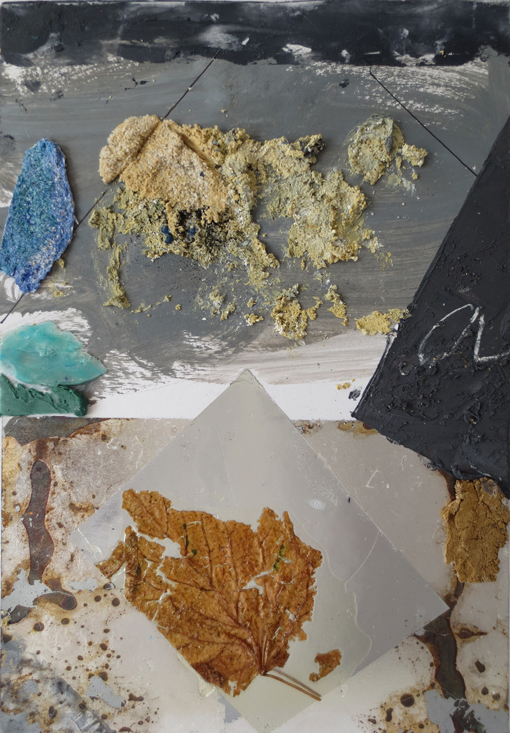 Guillem Ramos--Poquí

'First Memory'

29.7cm x 21 cm (11 3/4"x 8 3/4") 2013. Painting-collage, mixed media on paper.
Silver leaf. Tree leaf in resin on Melinex film.
Acrylic, sand, blue crystals, marker, soft pastel and encaustic on paper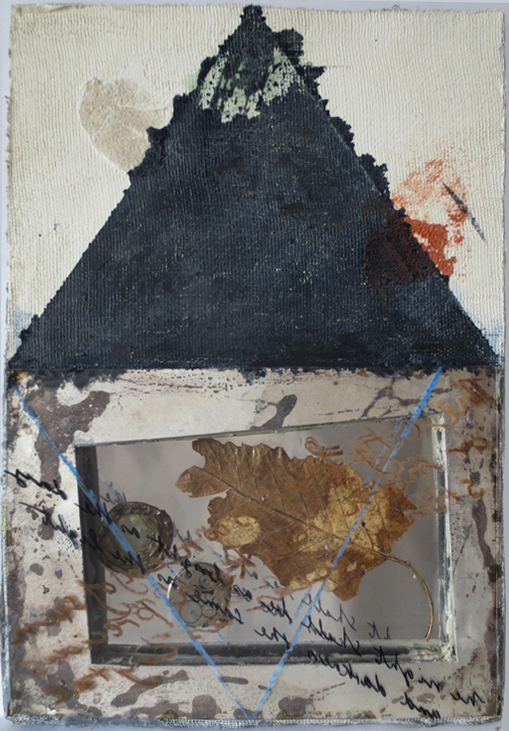 Guillem Ramos-Poquí

'Ephemeral'

30cm x 21cm (11 3/4" x 8 1/4") 2013. Painting-collage, mixed media
Mixed media egg tempera, acrylic and encaustic on board covered with scrim (muslin).
Silver leaf on card. Acetate. Oil pastels and pen.
Box with mirror film bottom, with leaf, clock and bottle top

Guillem Ramos-Poquí

'Mirrored Spaces'

30cm x 23.5cm (12" x 9 1/4"). Painting-collage 2013.
Mixed media on canvas (scrim) on board.
Egg tempera painted on gesso, sand and scrim.
Silver leaf. Mirror aluminium sheet. Markers and pencils on acetate
Guillem Ramos-Poquí

'Hall of Mirrors'

30cm x 23.5cm (12" x 9 1/4""). Painting-collage 2013.
Mixed media on canvas board.Acrylic silver, acrylic black paints, and acrylic
texture with pigment. Pencil, wax and silver, crayons.
Permanent marker on acetate over glass.
Fragments of text by Kant, Wittgenstein, Heraclitus and others


Paintings and Text 2012-2013

Back to Home Page



------------------------------------------------------------------------
SEE LINK TO RECENT WORK:

Exhibition at The Royal Artistic Circle of Barcelona 9th June-6th July 2014

Exhibition at The Royal Artistic Circle of Barcelona


The Art Circle was founded in 1881 and it is located in the former Palace of the Counts of Pignatelli,
in the heart of Barcelona's Gothic Quarter, next to its Cathedral and the School of Architects
Reial Cercle Artistic de Barcelona c. Arcs 5, 08002 Barcelona

Private View Thursday 19th June 7.30pm

19th June - 6th July 2014. Exhibition opening hours: Monday to Sunday 10am- 8pm
Link Guillem Ramos-Poquí at: Wikipedia Enclyclopedia
*************
MOST RECENT WORK 2014-2015:

Series: 'Mirror Spaces: Reflections on Culture and the Ephemeral'
Collages 2014
Series: 'Urban Beach Combing'
Assemblages 2015
++++++++++++++++++++++++++